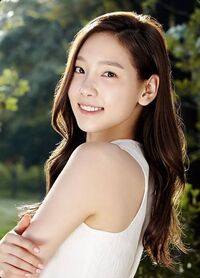 Main article: Taeyeon on SNSD Wiki
Kim Taeyeon (김태연), born March 9, 1989 is a South Korean singer. She is a member of both the South Korean girl group Girls' Generation and the South Korean group S.M. The Ballad. Baekhyun has appeared in her band's music video, Twinkle. They have been dating since February 2014. They are said to "Have started off as close sunbae-hoobae, the two recently developed feelings for each other and are in the beginning stages."
External links
Edit
What did I tell you, what do you think I said??

This article/image/template is currently nominated for deletion.
If you disagree, please voice your opinion on Category talk:Candidates for deletion, or improve this page by removing this template.